DataPolicyTrust & You
We all rely on the Internet & technology. Be more confident & efficient. Take control of your digital life.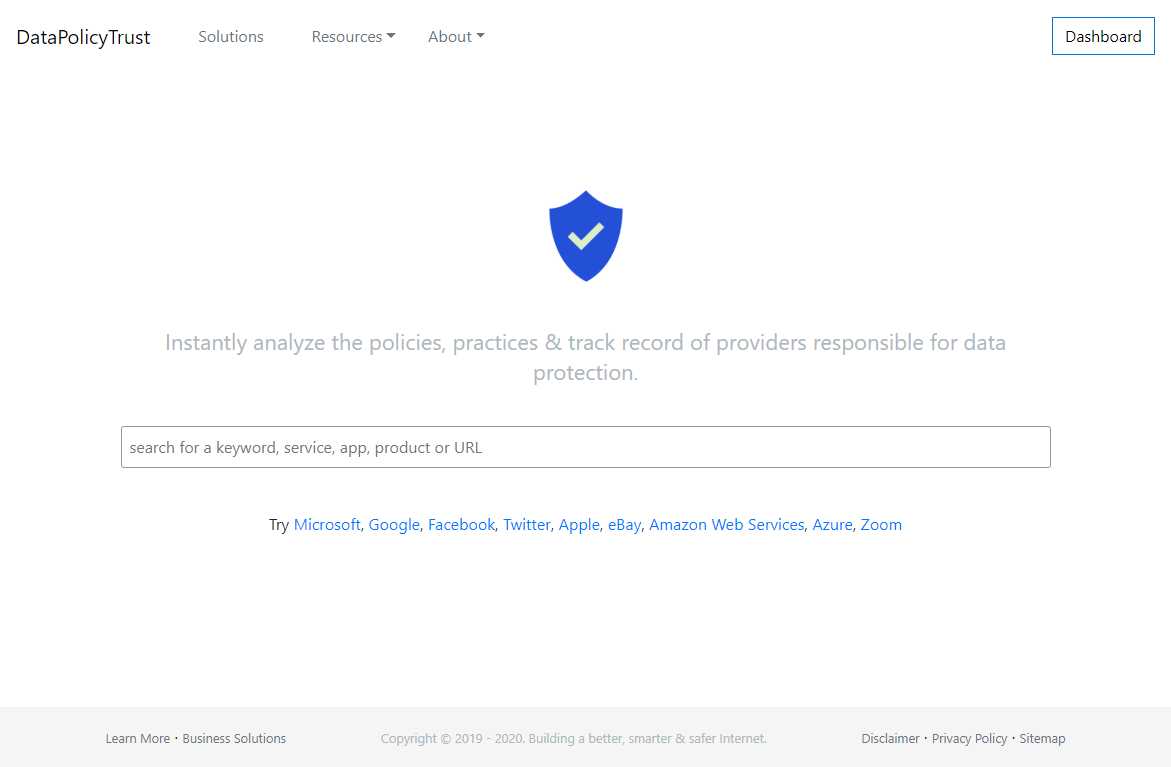 Instantly review how personal data is used with each service, product, app, site out there.
Answers to questions related to privacy
You will learn how your personal privacy parameters relate to the app or service's privacy policies.
Privacy For The Modern Web, IoT, AI, XR & more
Based on the most modern web standards, devices, platforms, operating systems and eco systems from PC, mobile, IoT, AI, XR & more, highlight how companies handle data protection and trust.
Personal Privacy Freedom
We provide you the most useful and helpful data and information on each app, site and provider to help you evaluate risks & take control of personal and data privacy with the technologies you depend on.
Why Many People Care about Privacy and Cybersecurity
Your personal data should be private
Not everything online about you is created by you. Your social media profiles contains the information you control. But what matters most is your private information — including home address, phone number and family member's names — available to anyone on public websites that you know nothing about.
Your personal data affects your life
This data affects your life. It tells friends, colleagues, even strangers, stalkers and thieves where and how you live your life. Because the information exposed about you online affects your life offline.
You should always know what, why, when, where, & how your data is used
You need to control where your private information is exposed and who's accessing it to effectively protect and monitor your reputation, privacy, and identity. We'll show you everything an app or service is doing with your data — and help users monitor the privacy and cyber security health of the service.
We provide data on the various digital services and solutions you depend on and many more...
Adtech & Networks
Apps
App Stores
Backup and Sync
Banking
Betting
Browsers
Cloud Computing
Collaboration
Communication
Cryptocurrencies
Developer
Domains
Education
Email
Entertainment
Finance
Food
Gaming
Government
Health
Hosting/VPS
Hotels and Accommodations
Identity Management
Investing
IoT
ISPs
Legal
Mobile
Marketplaces
Operating Systems
Media
Payments
Remote Access
Retail
Software
SaaS
Security
Social Media
Task Management
Texting & SMS
Telephony
Transport
Utilities
VPN Providers
Video Conferencing
Other
Monitor privacy consequences.
Rely on our free data and tools to help you measure, monitor and analyze risks to your privacy in relevant sites, products, services and apps globally with DataPolicyTrust.
Sign up for free
Sign up to start improving your digital world with DataPolicyTrust.