DataPolicyTrust & Your Organization
Your organization and teams need better data protection intelligence on vendors, providers and solutions.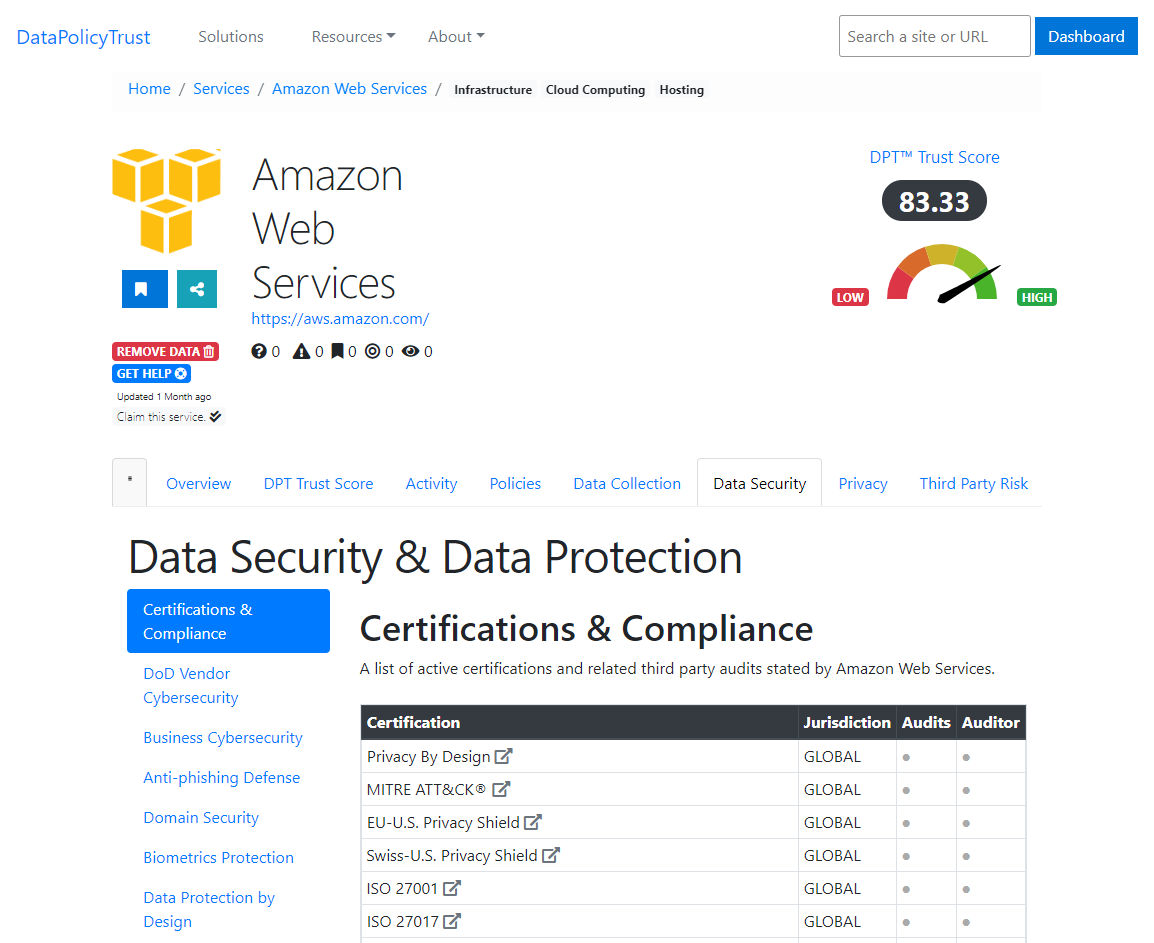 Request your Report
Request a report for your organization to evaluate your standards & vendor standards and to ensure your customers trust your standards.
Instantly analyze and monitor third party & vendor privacy, cyber security policies, risks & standards.
By proactively monitoring and analyzing your vendor and IT supply chain, you can ensure a better future for your customers, team and bottom line.
Monitor Trust
More cost effective due diligence for data privacy & data protection standards for your business that people, customers & regulators care about. Vet and monitor personal data privacy parameters related to organization's data privacy and data protection policies and practices as well as compliance 24/7.
Highlight Standards
Based on the most modern web standards, devices, platforms, operating systems and eco systems from PC, mobile, IoT, AI, XR & more, highlight how your company handles data protection and trust.
Streamline Transparency
We provide your organization useful and helpful data and information on your third party solutions and services to help your teams instantly evaluate and monitor personal data policies and data privacy standards.
Does your organization work with third parties to collect personal data or customer data?
As the largest, open database of privacy ratings and reports in the world, our business is making high-quality, official privacy data openly available to consumers and customers. Privacy and InfoSec Data that can be trusted, accessed, analysed, monitored and reviewed when and how it's needed.
Privacy Ratings
Policy Analysis & History
Third Party Risk
Data Collection
Standards & Compliance
Transparency, Safety & Trust
We provide data on your vendors and many more...
Adtech & Networks
Apps
App Stores
Backup and Sync
Banking
Betting
Browsers
Cloud Computing
Collaboration
Communication
Cryptocurrencies
Developer
Domains
Education
Email
Entertainment
Finance
Food
Gaming
Government
Health
Hosting/VPS
Hotels and Accommodations
Identity Management
Investing
IoT
ISPs
Legal
Mobile
Marketplaces
Operating Systems
Media
Payments
Remote Access
Retail
Software
SaaS
Security
Social Media
Task Management
Texting & SMS
Telephony
Transport
Utilities
VPN Providers
Video Conferencing
Other
Let's talk
Are you looking to increase trust with customers? We'd like to help.
Sign up for free
Sign up to start improving your organizations digital world with DataPolicyTrust.